Come and book your FREE tech computer class and/or smartphone class by calling us on 0459 571 736, or you can book online by clicking the links below.
These sessions are held weekly at the South Perth Learning Centre 96 South Terrace South Perth WA 6151.
Smartphone SOS One-on-One
Got your knickers in a knot over a problem with your smartphone, tablet or laptop? You have a new device, but you don't really know what it can do? Why not sign up for a free one-on-one 30-minute troubleshooting help session with our resident Tech Whizzes! These free one-on-one sessions are available every Tuesday and Friday mornings 10 am - 12 pm, and Thursday afternoons 12:30 pm - 2 pm.
Book FREE One-on-One 30-Minute Session

Group Classes
We have a wide range of free 1-hour group classes below. These free classes have a maximum of 6 students per teacher to ensure sufficient individual attention. To book a class, call 0459 571 736 or click the 'Enrol/More info' buttons below to register. (To see all the session dates, go to the group class calendar).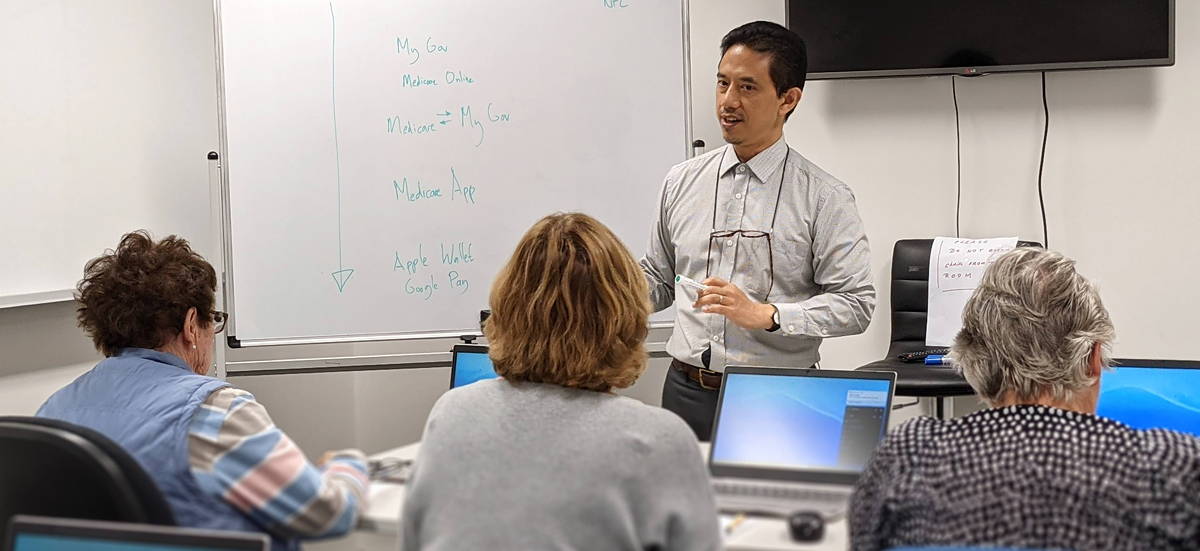 Your International Vaccination Certificate on Your Phone
The borders are finally open, and you're ready to travel overseas. Don't forget your International Vaccination Certificate! These days you will need it overseas, just like your passport. Come to this FREE 1-hour workshop to get this all sorted.
---
Learn Online from Universities & Experts Worldwide
Thanks to video streaming technology, we can all do online courses provided by experts, celebrities and universities worldwide. In this FREE 1-hour workshop, we will explore and discuss the different types of free and paid online courses available, and show you how to access them.
---
Look Up Recyclables on Your Phone
We often wonder whether something should or should not go into kerbside recycling. With the help of a locally-developed smartphone app, in this FREE 1-hour class we will help you demystify kerbside recycling! We will also help you install the app on your smartphone, so you always have a handy reference for what is/isn't kerbside recycling.
---
The Magnificent World of Podcasts
Do you enjoy listening to the radio, but want to focus on specific themes or topics? Then Podcasts are for you! Podcasts cover a wide range of topics from true crime to sports and to world news. In this FREE 1-hour workshop we will explore podcasts, and discuss how to access them on your device.
---
Getting Rid of Your Clutter on Gumtree
Want to try a new way to get rid of your clutter? In this FREE 1-hour course you will learn how to sell (or give away) your clutter online using Gumtree, an Australian community online selling website.
---
Mindfulness & Meditation Apps on Your Smartphone
Thanks to the advances in technology, there are now smartphone apps that help you with your mindfulness practice. In this FREE 1-hour class, we will survey the different types of free and paid mindfulness and meditation apps that are available, and discuss the pros and cons of the different types.
---
eBooks: 10,000 Library Books in Your Pocket
Did you know that using your smartphone/tablet, you can access free eBooks from the WA State Library? Come and learn how in this FREE 1-hour class, and walk out the class with 10,000 Library Books in Your Pocket!
---
Organising Your Documents on 'The Cloud'
You might have heard of friends and organisations organsing photos, bills, tax documents etc. on 'The Cloud'. In this FREE 1-hour class, you will learn how to use The Cloud to safely store and organise your documents digitally, and have them instantly accessible across your devices.
---
Driving With Apple CarPlay
Apple CarPlay connects to your iPhone, greatly enhancing your driving experience with dashboard navigation, music, podcasts and more. Find how to use Apple CarPlay in this FREE 1-hour class! This class will include an in-car demonstration.
---
More Classes to Come…
Click here to see a sample of the classes we will run soon here at SPLC!
SPLC training laptops generously provided by:

Be Connected initiative funded by: